Vintage jewelry, who doesn't love the sparkle of rhinestones from the past? Watching Casablanca
began my journey, as Elsa (Ingrid Bergman) walked into Rick's "Cafe Americain" wearing a beautifully tailored suit and jewelry that sparkled with a stunning blindness under the camera lighting; I was hooked on the sparkle. When I first started designing jewelry much of my inspiration came from vintage jewelry with its elegant lines and gorgeous clusters of rhinestones and pearls that swept across their settings. As my designing progressed, I began introducing mixed media, adding leather and other natural materials to the rhinestones. In my never-ending search for rhinestones, glass, and vintage findings, I came across an Etsy shop called "weekendjewelry1". The shop is owned by Jen Lownie and was established in 2006. She sells beautiful glass and rhinestone gems that have loop settings so all you need is your own design or, if you want something simple, add a pair of ear wires and "Voila" you have instant jewelry with sparkle! Jen was kind enough to grant me an interview. Because we are both named Jen, I am going to use PFS for my questions.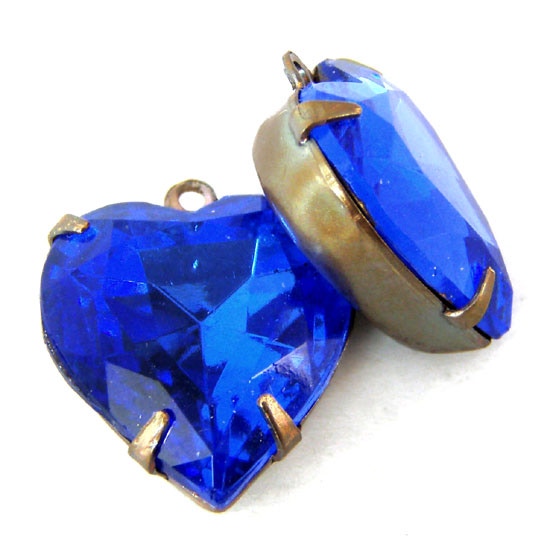 PFS: What inspired you to start your vintage glass and rhinestone shop?
Jen:
I've been making jewelry for years. It used to be all semi-precious and precious gemstones, precious metals, etc. I only wanted to use the Real Stuff - yes, I was one of those people. But it was SO expensive, and lots of times the quality of the gems I would afford was terrible. Then by accident I stumbled on some lovely old vintage glass jewels. And they were sparkly and well-made and over 50 years old.
Well I love the idea of vintage and re-purposing things, or giving new life to old things. So I started searching for vintage stones especially, and got hooked. And then I found some really good wholesale sources and thought, hey, I could sell these and make some money too - so I wouldn't just be *spending* money all the time! So I'm gradually phasing out all my gemstone jewelry - and selling pretty rhinestones :-)
PFS: How did you decide on your shop name?
Jen:
I didn't give it nearly enough serious thought, probably. I just thought, hmm, everybody loves the idea of a Weekend. You think "weekend" and you think of fun stuff. So "Weekend Jewelry" got born.
PFS: How do you decide the colors and styles you have available?
Jen:
Honestly I'm like any business owner. I listen to my customers and try to find things they want. And I'm always searching for *quality* (that doesn't cost a fortune). Some of my rhinestones are new, and some are vintage - it depends on what I can find. Half of my customers want to be able to re-order stones, and often that means new jewels - because it can be very hard to find the same rhinestones, a year later, with vintage.
PFS: What is the most difficult part, for you, of having an online store - and what is the best part of having an online store?
Jen:
I miss the in-person interaction with my customers that I got when I did a lot of craft shows. Talking and joking with customers was definitely the best part of the shows.
It sounds funny, but that's the best part of online selling, too - talking with customers. I have met some of the coolest people ever, through Etsy. And it's totally fun to have people all over the world order my jewelry supplies - and then let me know how happy they are with their purchase.
PFS: You have over 17,000 sales. Other than a great product, what else do you think has helped you achieve such great success?
Jen:
It sounds simple but it's really important: talk to people. Try to help them solve their problem. If they need something you haven't got, see if you can find it. If they need 7 sets of rhinestones for a bridal order, make sure that you send ones that really match. (Don't laugh, with rhinestones, especially vintage, that can be a challenge.) Remember that all business is personal to the person spending the money!
PFS: What other social medias do you follow?
Jen:
Oh boy. I'm terrible about social media. I just get mad every time I go to Facebook - I'm a dweeb! I do use twitter sometimes and will probably use that more. I post to Wanelo, and Pinterest. But I need to do a lot more work on social media, truly I do.
PFS: How are the other social medias beneficial to your Etsy site?
Jen:
I've had customers come to my shop after visiting my Pinterest boards - I'm
pinterest.com/jenlownie/
if you want to go peek. And I do have a blog at
vintageglassjewels.com
. I post there semi-regularly and always mean to do more - I know google loves sites with new content and so Blogging More is definitely on my priority list.
PFS: Thank you for allowing me to interview you.
*****
Today I have my first giveaway
. I am giving away some pieces from Weekendjewelry1. I selected some beautiful trendy fall colors. To enter you must comment on the interview sharing something about your experience selling jewelry online and then post a link to the interview/giveaway on your blog or Facebook. For a second entry, sign up to follow my blog via e-mail and comment below that you have done so. Giveaway ends Monday July 22, 2013 at 12:00 pm. Name will be posted Tuesday July 23, 2013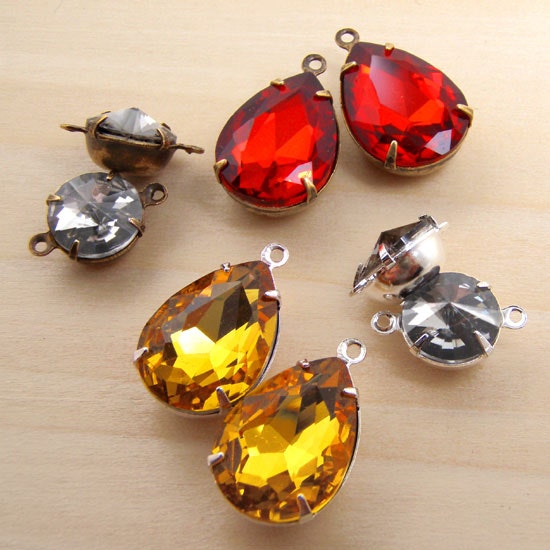 Giveaway Pieces